About Roofing101
Affiliations & Accreditations
Customer Review
By Jackie A.
Holt, MO

"Colby, the salesperson was awesome. Roofers did a great job. Very happy."

By Jackie A.
Holt, MO

By Tim D.
Holt, MO

By Brant P.
Liberty, MO

"Mike did a tremendous job showing us the damage and going over our options. We chose you for your affordability and the fact that..."

By Steve A.
Glenaire, MO
Roofing101 has provided expert roof repair, replacement and installation services in Kansas and Missouri since 2008. After a storm or over the course of normal wear and tear, all roofs need attention from roofing professionals to ensure their longevity. We are happy to serve our customers in this way, keeping their homes safe and secure for years to come. Manufacturers such as Owens Corning and GAF have recognized our prowess in the roofing industry, certifying us at the highest level. The support of these companies allows us to offer top-quality roofing products and materials to our customers. All of our technicians are fully trained and certified to carry out work needed, and we are always available to answer your questions. If you're looking for experienced roofing professionals, you've come to the right place
About the Owner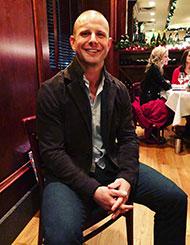 Graham Dessert
Graham Dessert founded Dessert Companies in 2008. Graham has an extensive background in construction, having started painting houses 16 years ago in high school as a summer job. The job steadily grew into a career for Graham as he went through college and started his own business in 2001, growing his employee base from 1 to 31 employees. Graham closed his business down in 2004 to work for a national painting company as a franchise developer. Graham gained the experience of hiring, training, and developing hundreds of employees. He learned the importance of outstanding customer service and workmanship. Over time he has also cultivated a background in roof replacement. Now, Graham is a seasoned business professional and contractor ready to take on roofing projects.
Outside of work, Graham is married with four children and resides in Leavenworth. He enjoys the safety and security of this part of the country, and he believes Leavenworth to be a great place to raise a family. Graham aims to bring this same sense of security to his customers when he works on their homes.
Giving Back to Our Community
Here at Roofing101, we believe that the community supports you and you support the community – that's how things work. We actively seek out opportunities to give back. For example, we support the Topeka Humane Society, and we have participated in Roofs for Troops.
We also have a program called Roof It Forward, where we complete roofing work for homeowners in need. Roofing101 is proud of the work we have done so far, and we look forward to future opportunities for community involvement.
Dessert Defined (How it's Pronounced!)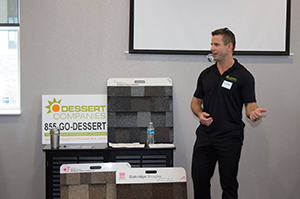 Roofing101 Owner Graham Dessert
There's one question we often get asked: is it pronounced "Desert" or "Dessert"?
des-sert (di zurt') n. the final course of a meal, typically cake, pie, etc.
des-ert (dez'ert) n. 1 an uninhabited region; wilderness 2 a dry, barren, sandy region, often one that is hot – adj. wild and uninhabited [a desert island]
Dessert Companies:
Though we all prefer dessert, it is pronounced desert (dez'ert)!
Looking for a price? Get a no cost, no obligation free estimate.